We are hiring! 
The Kenora Golf & Country Club is seeking a number of support staff to join our team for the 2023 season.  
Full or part-time positions are available in the following departments: 
Food and Beverage – short order/prep cooks, banquet server/dishwashers
Server/bar cart/bartenders
Pro Shop – driving range attendants
The club is also seeking a part-time Secretary to assist the Board of Directors.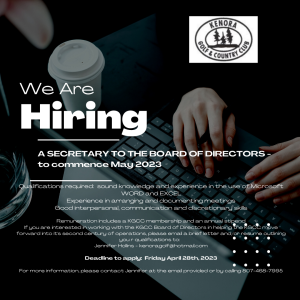 For more information, contact Jennifer Hollins at 807-468-7995 or kenoragolf@hotmail.com to apply or for an information package.
WE ARE ACCEPTING BOOKINGS FOR THE 2024 WEDDING SEASON!  DATES ARE FILLING UP QUICKLY!  CONTACT KENORAGOLF@HOTMAIL.COM FOR MORE INFORMATION.  WE WILL BE AT THE KENORA WEDDING EXPO ON SATURDAY MARCH 25TH, 2023 IF YOU WOULD LIKE TO SEE WHAT WE ARE ABOUT!
ARE YOU READY TO HELP CELEBRATE 100 YEARS FOR THE CLUB!  
The 2023 golf season is quickly approaching.   Come join us and help celebrate 100 years!  
We have a number of special events planned and want you to be a part of it!
Memberships will be available for purchase in April.  Several options available.
DID YOU KNOW BEING A MEMBER GIVES YOU……
Unlimited golf
Complementary Warm-up, Small or Medium range bucket (one per day)
Discounted green fee for bringing out a guest
Priority tee times, book 10 days in advance vs 5 days for public play
A discount in the Pro Shop for 15% off regular priced clothing, golf bags, shoes, hats and accessories
Access to the Golf Canada Handicap system and a certified handicap
Discounted power cart rental and access to purchase the yearly power cart rental or trail fee for personally owned carts
League play and club events….join the Men's, Ladies, Business Girls, Senior Men, Junior or Mixed League
Locker
Club charging privileges in the Pro Shop, bar, restaurant and beverage cart (with credit card number on file)
Access and membership to the Golf Canada Handicap System
Golf Canada Gold Member Card
Golf club labels and access to the Equipment Identification and Retrieval System
Opportunity to participate in Golf Manitoba events
Golf Canada Incident Protection Program – for property damage, cart damage and equipment replacement
Golf Canada e-newsletter
Exclusive offers on event tickets and Merchandise for Golf Canada events
WITH ALL THESE BENEFITS…..WHY WOULDN'T YOU JOIN?
COME HELP US CELEBRATE OUR 100TH ANNIVERSARY!
 MEMBERSHIP PAYMENT INSTALLMENT PLAN AVAILABLE
Contact the Pro Shop for more information at 807-468-7995
Did you know…..That the Kenora Golf & Country Club is accessible from the Lake?  We have docking available at the end of Golf Course Bay.
Follow us at: